naXys Newsletter – April 2019
Newsletter – April 2019
UPCOMING SEMINARS
The evolution of trait variance creates a tension between species and functional diversity, Gyuri Barabas (University of Linköping, Sweden), April 4, 13:00 – 14:00, E25
Heterogeneous spreading in network models, Liubov Tupikina (CRI, Paris Descartes, France & MIPT, Moscow, Russia), April 9, 13:00 – 14:00, E25
Pareto Models for Top Incomes, Emmanuel Flachaire (Aix-Marseille University, France), April 23, 13:00 – 14:00, E25
Functional and multitrophic mechanisms of species coexistence, Oscar Godoy (University of Cádiz, Spain), April 25, 13:00-14:00, E25
Abstracts can be found on our website: https://www.naxys.be/events
---
BIG SUCCESS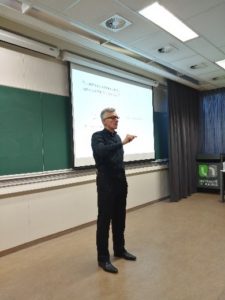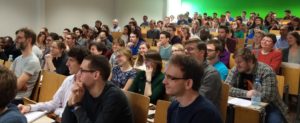 NAXYS EVENT BY PRINCIPIAE. More than 130 researchers from several faculties and research institutes attended the conference "Making the most of your presentation". As a credit to Jean-Luc Doumont and his talents, the whole audience stayed fully captivated for 2 hours!
---
LAST NAXYS PUBLICATIONS
On the diversity of stationary cosmologies in the first half of the twentieth century, Füzfa, A. & Dubois, E-A., 2019, In : General Relativity and Gravitation. 51, 1, 18 p., 11.
Universal regularization methods — varying the power, the smoothness and the accuracy, Cartis, C., Gould, N. I. M. & Toint, P., 2019, SIAM Journal on Optimization, 29, 1, p. 595-615.
Spatial resonant periodic orbits in the restricted three-body problem, Antoniadou, K. I. & Libert, A-S., 2019, In : Monthly Notices of the Royal Astronomical Society. 483, 3, p. 2923-2940
Stressor fluxes alter the relationship between beta-diversity and regional productivity, De Raedt, J., Baert, J., Janssen, CR. & De Laender, F., 2019, In press, In : OIKOS. 50 p.
Random walk on temporal networks with lasting edges, Petit, J., Gueuning, M., Carletti, T., Lauwens, B. & Lambiotte, R., 2018, In : Physical Review E – Statistical, Nonlinear, and Soft Matter Physics. 98, 5, 16 p., 052307.
---
Want to add information in the next newsletter? Please send it to
---
Copyright © 2019 – naXys, All rights reserved.
Contact: naxys@unamur.be
Wesite: www.naxys.be
naXys · University of Namur · Rue de Bruxelles 61 · Namur 5000 · Belgium